The success story of the Fuchs wheels - from the beginning to today
In the 1960s two things saw the world. The first Porsche 911 rolled off the assembly line in 1963 and the Fuchs wheels became a part of it in 1965. The two have belonged together for more than 50 years.
Not only the 911 was a sensation at the time, but also the "fan wheel" which was later to conquer the world as the Fuchs wheels.
This was not just any wheel that embellished and moved a Porsche, but an innovation that was to revolutionize an entire industry. The Fuchs wheels was the first forged wheel that came onto the market.
Whereas only liquid aluminum was poured into a mold in the rim production at that time, Otto Fuchs rolled up the industry and brought lighter and more durable rims onto the market through the forging process.
FACTS about the Fuchs wheels
Introduced: 1965 at the IAA mounted on a Porsche 911 Targa
Dimension of the first set of wheels: 4½ J x 15 inches
Order volume in 1965: 5000 rims
Years of production as a classic production wheel for Porsche: 1966 to 1989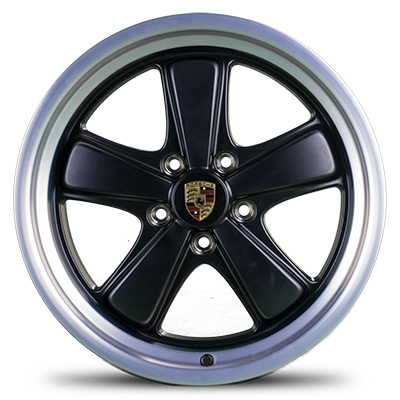 Often copied, never equalled - The Fuchs wheel, that forged wheel and the competition
Other vehicle and rim manufacturers quickly recognized the advantages of the new development of the forged wheel compared to a cast rim. So it was only a matter of time before they also jumped on this bandwagon and did the same to OTTO FUCHS. Although the technical development of the forged wheel was continued and new processes were developed, the popularity and fame that the Fuchsfelge achieved is still unrivalled today. Or do you know a rim that has its own annual event?
The Fuchs wheel today
From the presentation of the first Fuchs wheel until today, some decades have passed but the band which was forged out of aluminium between Porsche and Fuchs at that time still holds today. The Fuchs company still impresses the Porsche community with the beauty of their rims.
Not only the cars have become bigger since then, also their rims. The original model of the Fuchs wheel had a diameter of 15 inches, nowadays 911 wheels are used with up to 21 inches. In the SUV sector, in which Porsche has been very successful with the Cayenne for many years, there are even 22 inches.
Today, Fuchs serves the entire Porsche range with its light, elegant and slim rim designs.